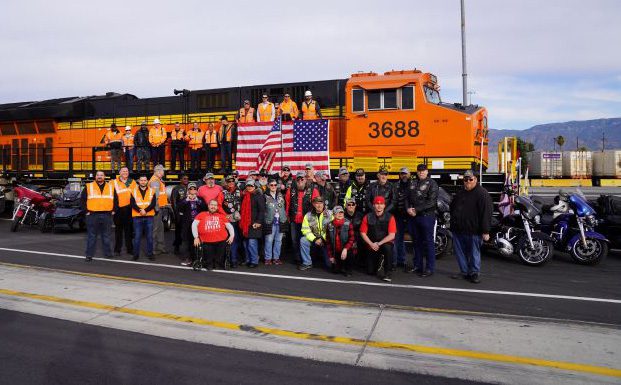 In December, Team BNSF proudly helped deliver and place wreaths on veterans' graves during the annual Wreaths Across America, an event that has been honoring veterans since 1992. BNSF teamed up with trucking giant J.B. Hunt to transport 227,000 wreaths, free of charge, to show support. Together, we moved more than 35 container loads, up from 22 in 2021. Ahead of the deliveries, our BNSF terminal in San Bernardino, California hosted a ceremony to kick off the patriotic event.
"We came together to really find a way to move [the wreaths] with the utmost respect that they deserved," Lena Kent, our General Director of Public Affairs, said. "And so the team on the ground really worked hard to put together a ceremony at the yard to hand off the container to J.B. Hunt."
A Patriot Guard escorted the J.B. Hunt truck from the San Bernardino yard to the nearby Riverside National Cemetery, where some of our amazing BNSF employees and their families volunteered to help place the wreaths.
Read more here.