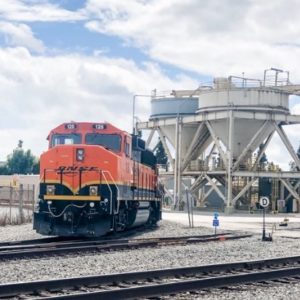 The California Division continues to provide essential services while doing what they can to adjust routines to the ongoing pandemic. They also continue to take the safe course when it comes to their personal safety as well as others.
"Our crews are coming up with ideas and taking it upon themselves to sanitize, recognizing they're each other's first line of defense," according to General Director Transportation Rich Dennison. "Supervisors as well are cleaning frequent touchpoints in our terminals and crew lobbies. This situation is making us all think about the smallest of details."
Inside the cab, engineers and conductors are doing their best to maintain social distance; and should a third crew member be on board, that person has the option to ride in the second locomotive, which is also being sanitized.
Technology is also helping to keep people at a distance. Rather than using a computer in terminals and crew lobbies, we've developed technology that allows employees to use BNSF-provided iPads. And should crew members need to meet in the yard office, they remain aware of social distancing.
Dennison concluded, "When we go to work, we're providing a service to our nation, and our nation is counting on us to deliver."